Here is the calendar of our 2023 nature-related activities which, like every summer, will allow you to discover the landscapes and inhabitants of our beautiful Ardèche. The weekly programme is presented every Monday at 11.30 a.m. over a welcome drink.
Updated on 13 May 2023
We anticipate your disappointment, but we don't offer music evenings or a children's club here. Fortunately, there are so many other things to do! For example, we organise at least one activity per day, related to nature, the discovery of our territory or the local gastronomy. All our partners are from the Ardèche or are close neighbours of our beautiful department.
​Calendar of our 2023 nature-related activities
Whether you are in a tent or in one of our accommodation, all these activities are free, sometimes with registration. The calendar can still be enriched, so do not hesitate to come back and consult it.
Horse-drawn carriage ride
Monday mornings, between 10.30 and 12.30 am – from 10 July
With Noémie, horse-drawn carriage ride in the campsite, while waiting for, or during the aperitif, where we will present you the programme of the week.
Nature walks at night
With Benjamin, a mid-mountain guide from here. 360° panorama at the top of the Dent de Rez (720 m), or hike to the sandy mountain, on the banks of the Ardèche river, with a ford crossing. Breathtaking!
Heritage walk
Tuesday mornings, from 9:30 to 12:30. From 11 July.
With Michel, president of the Saint-Remèze heritage association, who will share with you his love and knowledge of our local heritage: mills, dolmens, vernacular heritage…
Astronomy from 4.30 pm until… late at night!
The day changes,not to be disturbed by the Moon. Tuesday 11 July, Saturday 22 July, Tuesday 8 August and Tuesday 22 August
With Ophicius club. In the afternoon, the olders will be able to observe the Sun while the younger ones make and project their homemade rockets. Then, once night has fallen, observation of the stars after a presentation on the solar system. And above all, a meeting with enthusiasts, while enjoying a clear sky, ideal for stargazing.
Briange workshops
At 10.30 a.m. on Mondays, Tuesdays, Thursdays, Fridays and Saturdays in July and August
DIY workshops will be led by the Briange team, to create lavender, photophores, mobiles, cyanotype, postcards made of recycled paper, paper beads, homemade candles… to be practiced with the family.
And also practical workshops to make your own washing powder (article in french only), sun cream or toothpaste.
Wellness under the oaks
To experience nature and rejuvenation to the full, very simply.
Sophrology with Françoise – Wednesday mornings at 9.30am, from 12 July
Night swim at the pool
Every Thursday night until 11pm for the pleasure of swimming at night.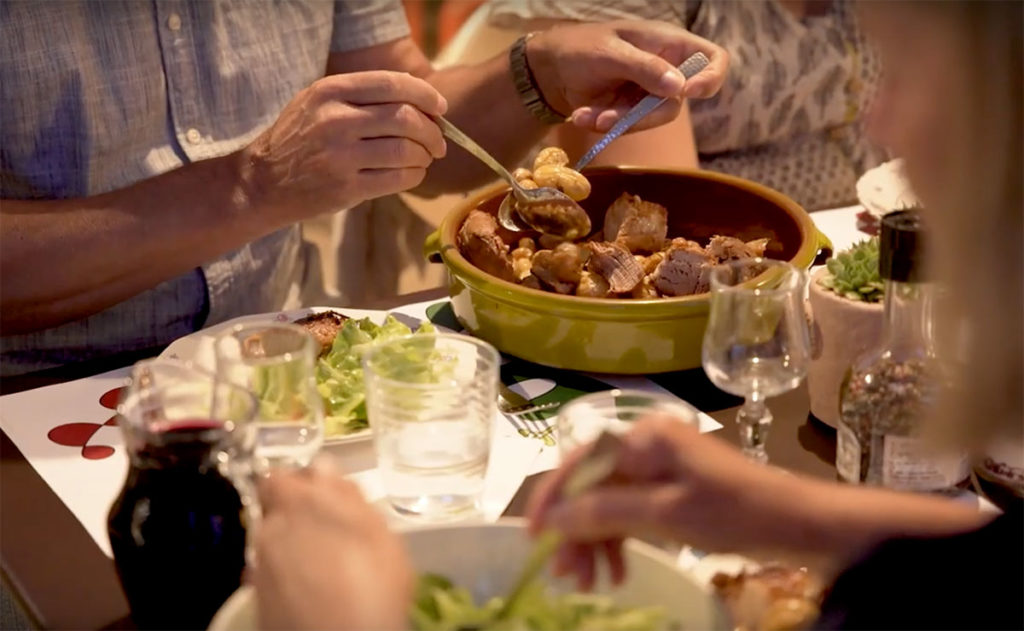 ​For gourmets
In addition to our 2023 nature-related activities, we'll also be serving delicious local seasonal cuisine.
Every Wednesday from 6 to 8pm: a small market with wine tasting and sales with Séverine, winemaker from Domaine de Mermès, soaps made by Camille, and other local products sold by Marie-Claire from the boutique Les secrets de mon pays.
Also on Wednesday evening: the Briange meal. A unique meal shared at the same table for a convivial moment with travellers from France and Europe. An institution for 26 years!
Thursday evening: an Ardèche crêpe evening, with chestnut-flour pancake batter, Ardèche ingredients for sweet and savoury pancakes, and sparkling wine from Saint-Remèze.
​And every day of the summer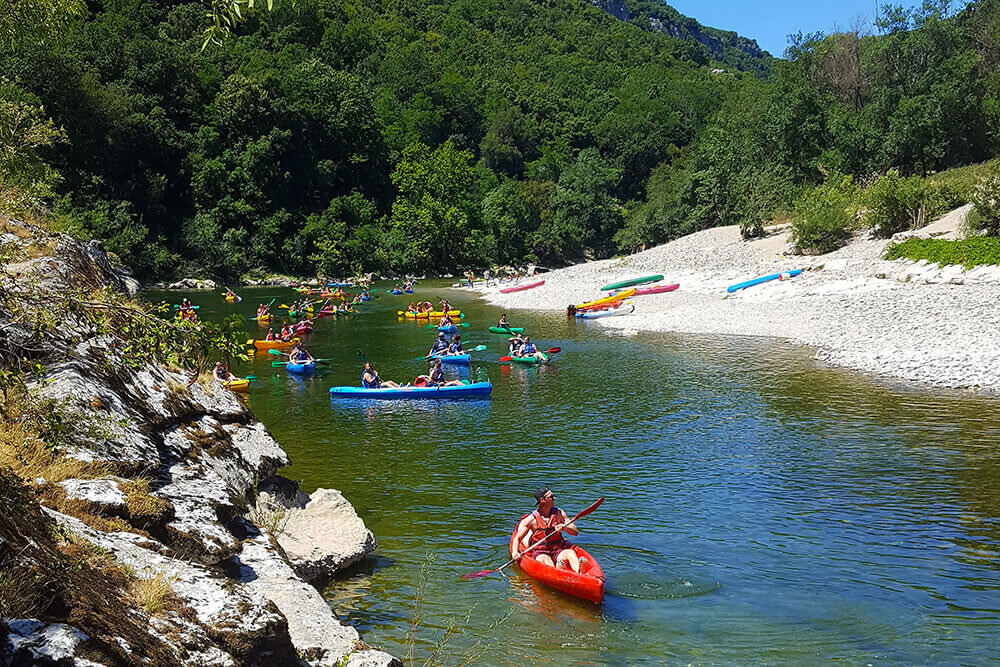 The descent of the Ardèche gorges
In partnership with Action Midi Sport, a kayak rental company, for a 24 km (one day) canoe trip in the Ardèche gorges. A mini-descent of 8 or 12 km is also possible. Departure from the river, at 10 min from the campsite.
Electric bike rides.
There are some lovely tours to be had around here. We don't have bikes for hire here. You can go directly to Face sud in Vallon Pont d'Arc or Allvélo in Bourg St Andéol. They are pros, have great equipment and can advise you on some nice routes, either in Ardèche or along the Rhône river.
Discovering the territory in silence
To discover our territory, you can also rent our electric car Zoé, a great autonomy to roam in silence in the surroundings.
All you have to do is book your stay!
– Agnès