Here, night is black and stargazing is a daily wonder. All you have to do is look up. We're away from the surrounding villages and don't use much lighting. So our campsite is particularly good for observing the sky.
For many years now, we've been inviting a local astronomy club to share their passion with you. What's new this year is that we've set up an astronomy area in the open air, so you can enjoy the night on your own. You'll be able to see well-known and lesser-known constellations, a few planets and the Milky Way across the sky.
Observing the stars on your own
New for 2023: an astronomy area.
The aim of this new space is to extend the astronomy evenings and help you to observe the sky on your own. So we've set up a lovely space away from the campsite, along the Briange path, with :
wooden platforms to lie on alone, in pairs or with the family,
information panels to help you understand what's overhead.
A beautiful dark night means more stars visible in the sky and a beautiful Milky Way. That's great! And it allows biodiversity – of which we are a part – to maintain its natural rhythm. Find out more about our actions to promote sustainable tourism.
Loan of stargazing equipment
You can just lie back and look up there. Admire the Milky Way, observe the planets of the solar system, try to recognise certain constellations, etc. And if you want to go further, we can lend you some equipment:
a telescope
a star finder to find your way around the sky
a headlamp with a red light to avoid being dazzled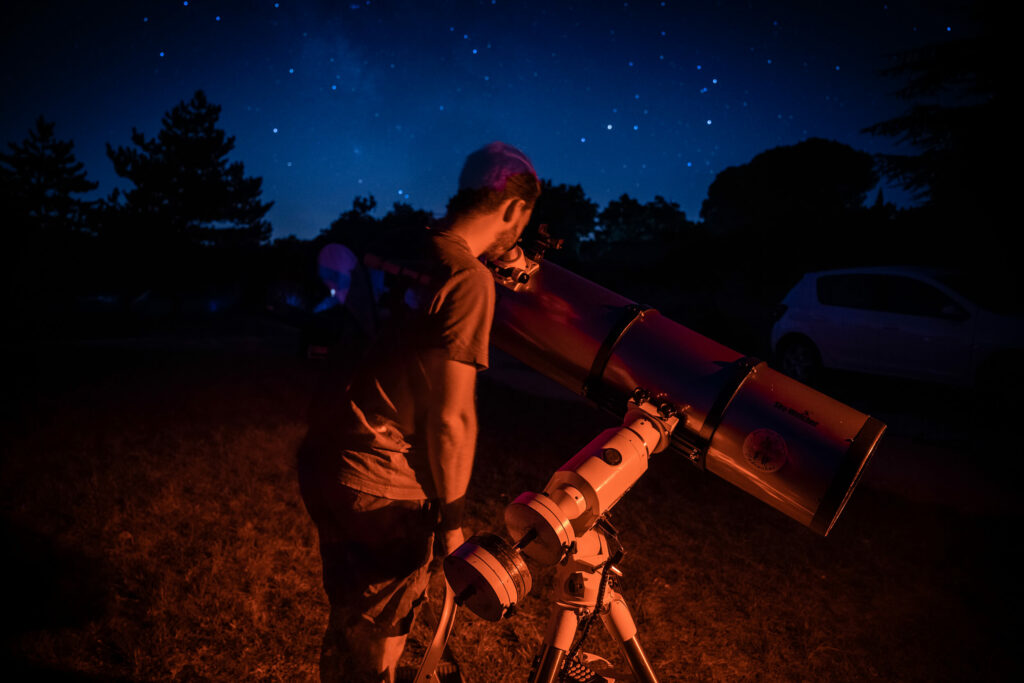 Discover the skies with a passionate team
We also organise astronomy evenings several times a year. The astro-club enthusiasts bring their equipment and knowledge to share their passion with you and show you amazing things in the sky. It's always an eagerly-awaited rendezvous that amazes old and new alike.
– Photos : Jessica Bordeau