Today, the impact of human activities on our environment has been proven. This impact has two consequences: destabilising biodiversity and disrupting the climate. This is why when we talk about ecological actions, we are talking about acting on these two levels. Little by little, we have developed this ecological campsite by making conscious choices concerning our facilities, our purchases, our service providers, our activities, etc.
Despite our efforts, it is obviously difficult to be 100% coherent in a political, economic and cultural environment that is far from sustainable. So, here is an article providing an update on our thoughts and actions.
Pathway to an ecological campsite, from yesterday to tomorrow

1997-2010: A rural, almost classic campsite
When we arrived at the Domaine de Briange in 1997, there was everything to do in terms of development: accommodation, catering, facilities, entertainment, etc. This potential made us want to come here, as well as the space and all these beautiful oak trees!
We started without thinking too much, while learning our trade, helped by our roots from Ardeche which already encouraged us to be frugal and simple.
Although our suppliers were mainly industrial at that time, we immediately took care of nature:
No pesticides on the estate
No tarmac on the pathways
The accommodation was arranged according to the vegetation, to cut down as few trees as possible
And already manual nature-related workshops
Since 2010: An unusual and ecological campsite
Little by little, this nature has become a real distinguishing feature. The peace and quiet and the space, as well as our desire to create a meeting place. In this context, it is our customers who have made us gradually aware of the uniqueness of our campsite, in contrast to the evolution of the profession.
In the early 2010s, we affirmed our values and developed our activity by taking the environmental impact increasingly into account. Actions lead to reflections which lead to new actions… and so on.
It is a 25 year journey, made of meetings and readings, that brings us to this ecological campsite today. The objective is to go further and further towards a sustainable place, i.e. economically viable without borrowing from future generations. This raises many questions:
Is this action reproducible over time?
Is this resource renewable?
Are we publicly comfortable with what we are doing?
etc.
To discover this unique place, our approach and our history, we invite you to watch our 25 years mini-series here.
Ecological campsite and carbon footprint

Given the scale and speed of climate change, there are two courses of action available to us: mitigation and adaptation. These are two complementary strategies, supported by the latest IPCC reports. Mitigation addresses the causes of climate change and consists of limiting global warming (releasing less CO2 into the atmosphere). Adaptation addresses the effects of climate change and consists of learning to live with it (e.g. adapting to heat, drought, floods, etc.).
Everyone is invited to act at their level, including us. You too, as a holidaymaker, that is why we are implementing a series of actions and advice to facilitate your eco-actions. Our global approach has been rewarded by the Green Key label since 2010. It is a recognition but also a support to continue to improve on this aspect.
Mitigation measures
The first challenge is therefore to limit global warming to avoid as many harmful consequences for our future as possible. Every tenth of a degree counts, so there are no small actions. Here are some of them:
Shorten transportation by using local products and suppliers
Reduce meat on the restaurant menu (more than 40% vegetarian dishes), especially beef
Reduce electricity consumption: sensor in sanitary facilities, LED bulbs everywhere, no air conditioning in accommodation, low lighting of the site at night…
Using 100% renewable and low-carbon electricity, some of which is self-generated on site with a wind turbine and photovoltaic panels
Moving around the campsite with our electric bikes, as well as outside with our electric car
Reuse, buy second-hand and maintain our equipment as much as possible to avoid the production of new, energy- and resource-hungry equipment (repairing household appliances, second-hand furniture, etc.)
Renovate the summer bungalows to extend their life (see dedicated article here)
Refuse to use air-conditioning in the accommodation, our large oak trees are very efficient!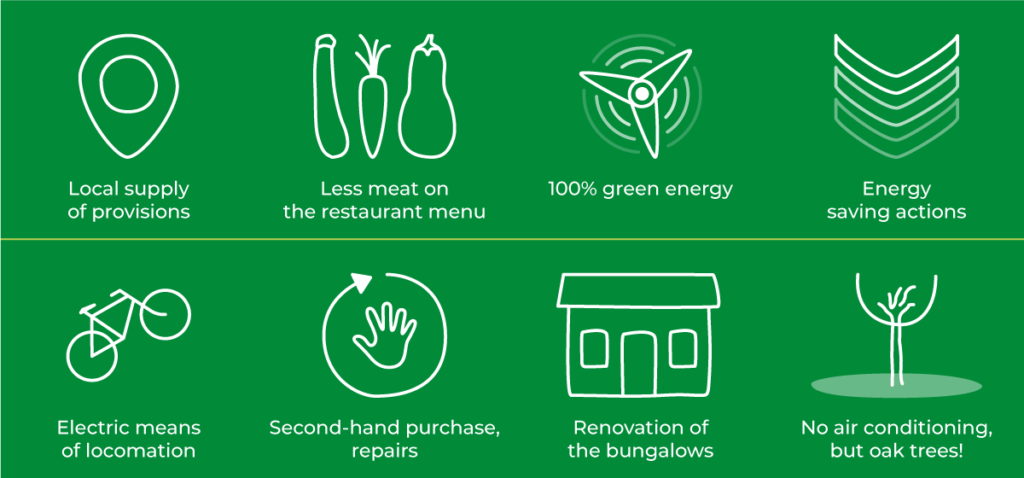 An idea for the future: make a carbon assessment of our activity to act in a relevant way.
It is in this spirit that we encourage our clients to travel local, without taking a plane. Just as we eat locally and seasonally, we invite you to travel locally and seasonally. A change of scenery and discovery are within reach: cycling or walking, micro-adventures, meetings with local people are all ways of getting away from your daily routine.
Adaptation measures
Heat peaks, droughts and floods are all visible consequences of climate change. While mitigation is essential, it is also a question of adapting to these phenomena. At the campsite, our situation already has many advantages. We are on a plateau, often with a little wind, and there is plenty of vegetation. So we suffer less from the heat, especially at night when the temperature is cooler. Nevertheless, here are some additional actions:
Preserve our oak forest, which provides shade and humidity
Limit the artificialisation of the soil to allow rainwater to penetrate the earth
Plant local species, adapted to the dry climate, and above all encourage spontaneous vegetation
Reduce water consumption through, among other things, the use of dry toilets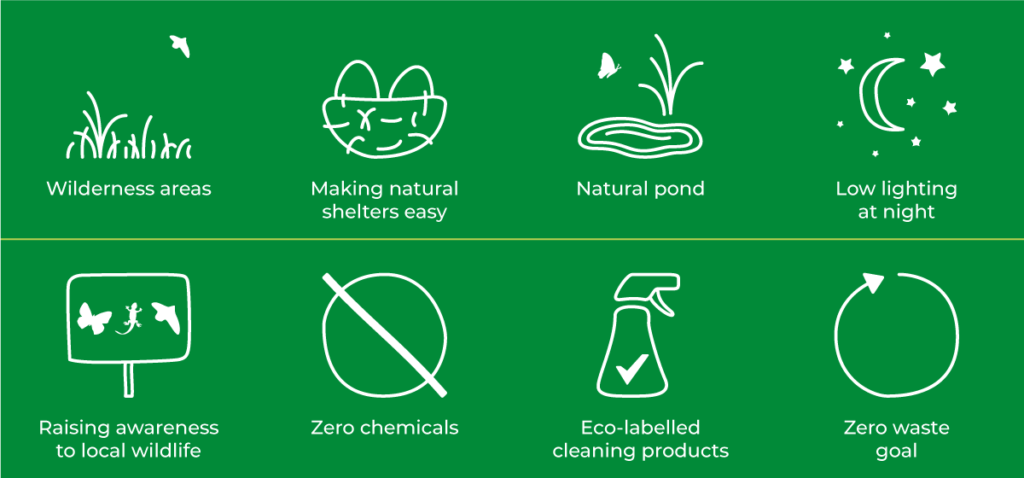 Ideas for the future: better insulation of buildings and accommodation, painting the roofs white, proposing a low-tech ventilation system, or reducing the volume of water in the pool.
Our actions in favour of biodiversity

When we talk about ecology and environmental policy, we often forget about the impact on biodiversity. Yet fauna and flora are severely affected by human activities (pollution and climate change).
Since the beginning, we have paid attention to our natural environment, without necessarily being aware of our actions. With this objective in mind, we joined the Refuge LPO label (Birdlife France) in 2021. They help us to go further and to make our actions in favour of living beings more visible:
Keeping wilderness areas to encourage biodiversity
Minimise intervention in nature (mowing and pruning)
Create a natural pond
Make the local fauna visible through signs to raise awareness
Limit lighting at night to avoid disturbing the animals
Do not use any pesticides for the maintenance of the site
Use eco-labelled cleaning products that limit soil and water pollution
Aim for zero waste, in particular by reducing the use of plastic, which is highly polluting

What about you?
Explore the issue of sustainable tourism
Firstly, you are invited to limit your impact as much as possible during your holiday. Then, you can explore the issue of sustainable tourism further with these resources:
Green Key, the reference label
Finally, you can reflect on the world around us by immersing yourself in the fascinating reading material in our library (a number of references are here, it's mostly French books, but some of them are not)
We wish you a wonderful holiday here… or elsewhere.

Share your ideas for an ecological campsite
It is an exciting process that invites us to question our habits, to be curious, to imagine the tourism of tomorrow and to be interested in the world around us. Today, we believe we are on the right path, that of slowtourism. It is obvious that the answer to these challenges can only be collective. So if you have any ideas on how to take this further, you can write them down below.
You can open the pad below in full size by clicking here.