Sharing has been an essential value of the campsite since its inception. It is a magical place where exchanges are immediately easier with others. We want to be part of this story and offer you facilities that make sharing easier. Our ecological commitment also leads us to share certain services and to offer spaces for donations. Discover our shared spaces here.
​Shared space for campers
In 2018 we created a first camper space with shared fridges and a sink. Another with a shared freezer, a book box and a donation box. Then in 2021, we decided to refurbish an old canvas bungalow to create a new, more practical and friendly space.
We have left a table and a few chairs to accommodate campers, especially on rainy days. Above all, you can benefit from shared services with other campers. This is a great way to share household appliances.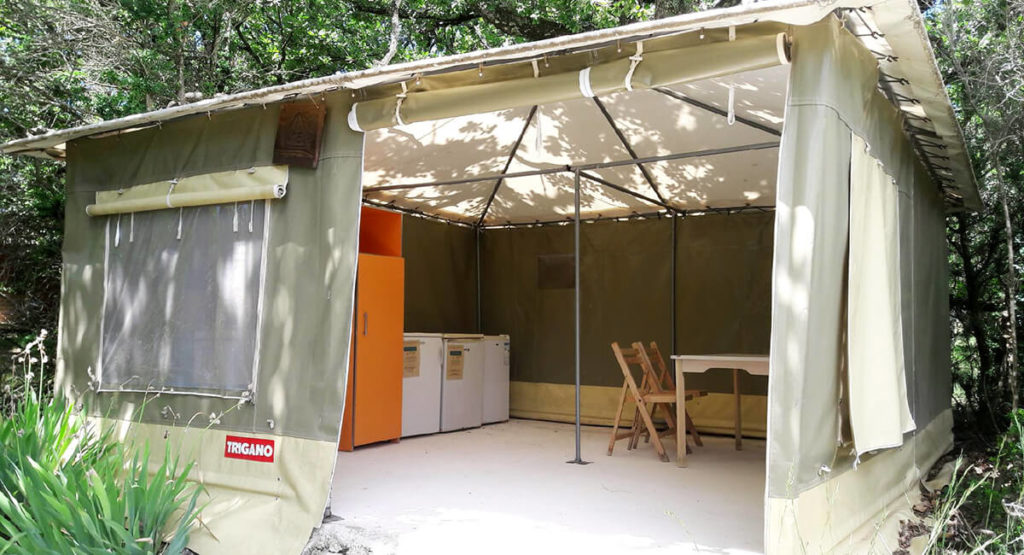 This place will be open from sunrise to sunset. There is no lighting, this is voluntary. At nightfall, the calm of the campsite is better respected in the dark.
Shared fridges
You will find 3 shared fridges under this tent to put some ingredients that cannot stand the heat: butter, ham, cheese… Stick to what is necessary so that everyone has a place.
In order to avoid leftovers, we suggest that you use one of the 3 fridges as a refrigerated donation box. You can put in it what you want to leave to the next ones, like a butter plate. We will empty it once a week to avoid their expiration.
The shared freezer
If you prefer to keep your cooler handy or to store more than you need, you can put your ice packs in the shared freezer. This way, you are on your own to manage your fresh ingredients during your stay.
Did you know that? You can also rent a fridge directly on your pitch. It's all here.
The food donation box
Finally, in this camper's area, we offer a donation box for unrefrigerated food ingredients. For example, you can leave an opened packet of rice, a bottle of vinegar or salt in the box. Remember to check it out when you arrive, someone may have left something useful for you.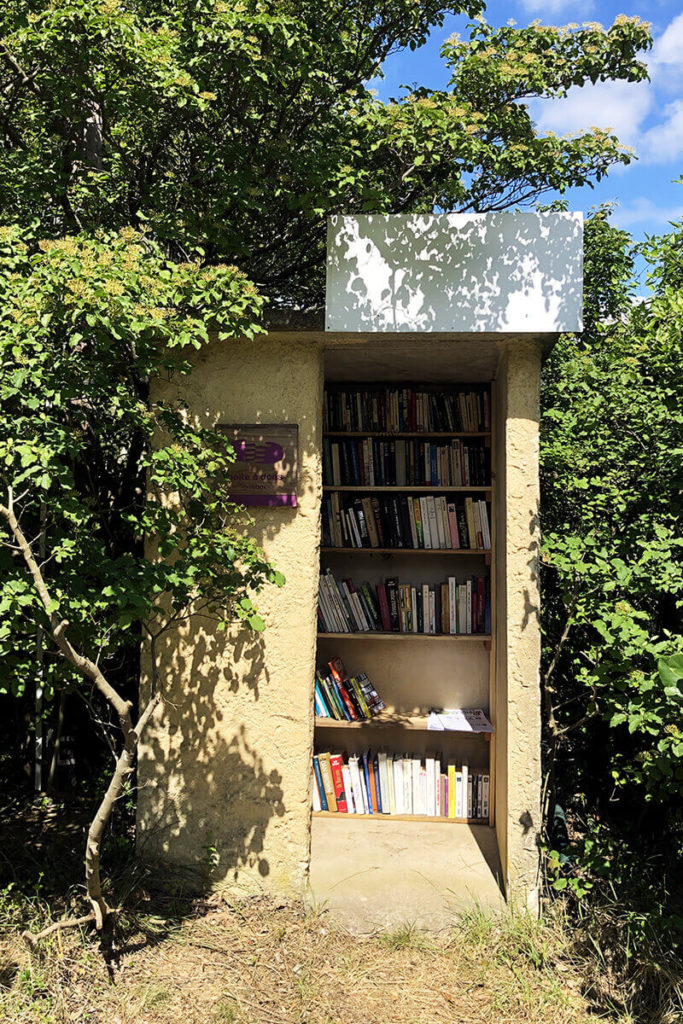 ​The shared library
Another shared space, another use. We present our brand new shared library. A nice cocoon where you can choose a book for your holiday or leave the one you came with.
So, our old telephone box remains a place of exchange and openness to the world. Enjoy your reading!
The non-food donation box
In this old telephone box you will also find a box for non-food donations. Sometimes there are sardines, a buoy for the pool or an inflator for your mattress. Come and see at the beginning of your stay, and drop off what you don't want to take home at the end.
​And always…
These new shared spaces complete our shared facilities. Of course, there are the classic petanque courts, the children's playground and the swimming pool. More atypical, you can also take advantage of the collective charcoal barbecues and the shared vegetable garden to add some herbs to your cooking for example.