We offer you a nice loop in the heart of the nature reserve. Some difference in altitude, of course, but a magnificent landscape and a route essentially in the shade. You will even discover dolmens during this hike in the Ardèche gorges.
3h – 7km – 250 m positive height difference – white and yellow markings
A tour 100% in Saint-Remèze
Departure from the forest house of Saint-Remèze
Even though you are a few kilometres from the village, the whole loop is located on the grounds belonging to our of Saint-Remèze. The starting point is 10 minutes from the campsite by car – remember to take the route description. Not far from La Madeleine, you can park in the shade, which is a real plus.
The hike starts on a dust track, suitable for cars, so rather wide. It crosses the plateau on which you are standing (or driving). It is not the most exceptional part but it will lead you to the dolmens!
Diving in the Ardèche gorges
After about 2 km, you will cross the tourist road of the Ardèche gorges. From there, you are on a real hiking trail, in the shade, in ta shrubby forest. You have a view of the gorges, its large steep limestone cliffs and sometimes a glimpse of the river.
The gentle slope will lead you to the bivouac of Gournier, in the heart of the Ardèche Gorges nature reserve.
Quick ascent in the undergrowth
From the bivouac, you will go up by the fireman's access, a rather steep concrete road. Sometimes a path runs along this road. The way back up is also shaded, which makes it possible to make this hike any time you wish. But don't forget to take water!
It will take between 30 and 45 minutes to get back to your car.
Picnic and swimming in the Ardèche gorges
The arrival at the river in the heart of the gorges is really a highlight of this hike. The landscape is magnificent and a small splash in the water allows to refresh oneself.
Even if the canoes can be numerous at times, the rapids of the Toupine will liven up your break. The bivouac of Gournier is a very pleasant place to take a break, picnic and swim. And after 4pm, you will be at peace.
Discovering dolmens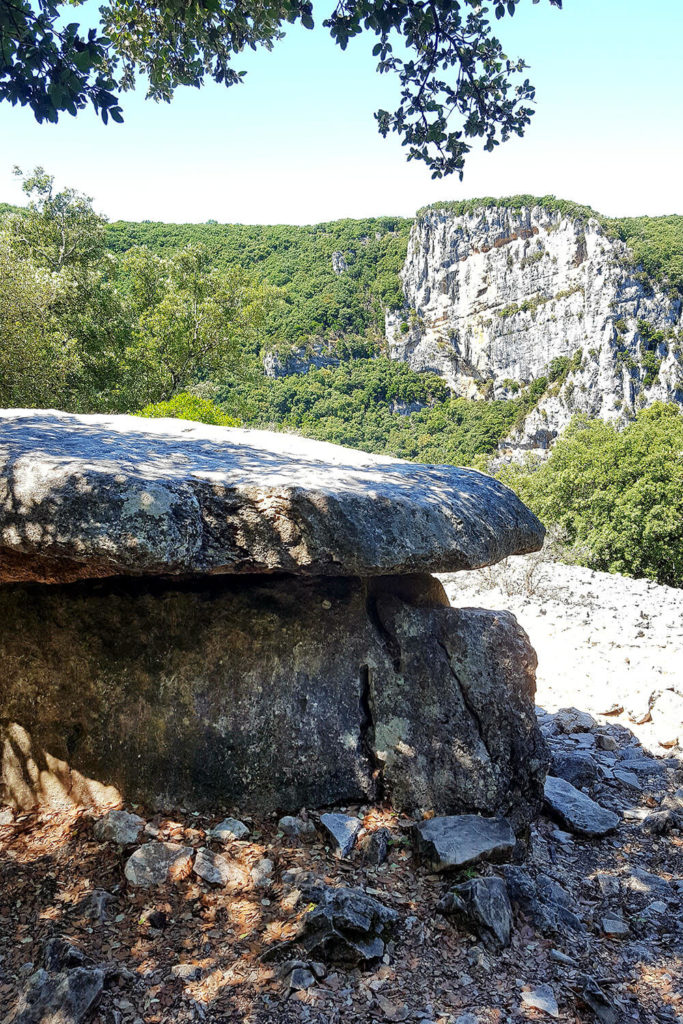 During this hike in the gorges of the Ardèche, you will pass close by 2 dolmens, one of which really overlooks the gorges. A magnificent place, it is easy to understand why it was chosen as a burial place.
Did you know that? The Ardèche is the department of France with the most dolmens. There are nearly 900, mainly in the south of the department, around the Ardèche gorges.
– Romain & Jess