First of all, we want to thank you who visit our camp site year upon year, for you respect our site and take care of leaving everything as clean as possible. So we only need to do the regular cleaning of the sanitary facilities and common area's and of course the accommodations. So, THANK YOU, MERCI!
In these troubled times of the Covid-19 disease, we estimate it important to give you details about our cleaning procedures and the products we use for your sanitary safety and comfort.
This summer, we will take additional measures to assure an even more rigorous level of cleaning and hygiene adapted to the new situation.
More than 20 years of experience!
For more than 20 years now, we follow formalized and detailed cleaning procedures and all our staff has been trained to follow them. There are procedures for the sanitary blocks, for the bar-restaurant and for the accommodations. And this summer, we will apply the hygiene rules even more strictly.
For over 20 years, we thoroughly clean and wash the sanitary arrangements twice a day. And we're not going to let the virus get the better of us. If the authorities ask for it, we will clean more often and leave at your disposition what's needed to disinfect between the passage of two persons.
We take care of cleaning the accommodations after each departure. This service is included in the rental price for many years now. The cleanliness and hygiene of our camp site is a serious matter to us. And your comfort too. So, if you feel it necessary, we will clean things again. And we'll continue to do so!
Hygiene and environment
You know our commitment. There is no place for debate here. Hygiene and environment are not incompatible! We exclusively use ecological products, Eco-Label by Ecocert and confirmed by the Green Key label. On top of that, we have a local provider, facilitating procurement and reducing the carbon impact!
Our core product is soft soap. We use it to clean alls surfaces and floors. It releases a sweet perfume and is an excellent repulsive to ants that invite themselves each beginning of summer. And, lucky us, soft soap is the most effective product against viruses!
Another of our core products is the essential oil of lavender. Lavender is a powerful disinfectant, and it's a repulsive against spiders. Besides that, it smells good, and it grows close to us! Another local product.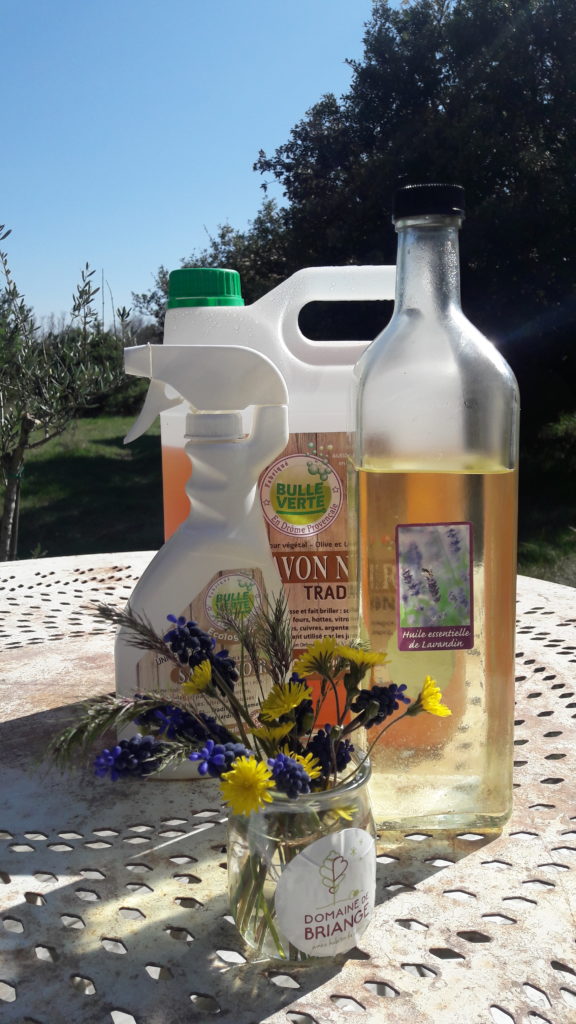 Necessary cleaning adjustments
This year, to adapt to circumstances and prepare ourselves to welcome you in the best possible conditions,we decided to make available in all areas of the camp site: Marseille soap and soft soap (black soap). And we will add them to the welcome kit in the accommodations.
In accordance with future directives, we will further adjust our procedures. Most importantly, we prepare social distancing measures at the reception, the shop and the restaurant. And we will do all we can to give access to the common and shared areas we're so fond of.
Last but not least, in case one of us shows symptoms, each of us will stay home. And we ask you to do the same.
Et de grands espaces !
Coming to our place is enjoying wide-open spaces and nature. Our large pitches warrant you social distancing from your neighbours and with that more serenity. Be it in a tent, or a rental, you benefit from about 250 m2 and the pitches do not stick together. We would not have thought of it, but with today's look, that too is a measure of sanitary security.
So you see, everything will be ready so you can spend beautiful holidays at Briange, after this hard period of confinement and worries. We very much look forward to seeing you.
Agnès, Fred, Romain, Armel and the team.